Monitor the risk of airborne viral transmission in your spaces.
Wherever people are sharing air, the higher the CO2 level, the higher the relative risk of airborne infection.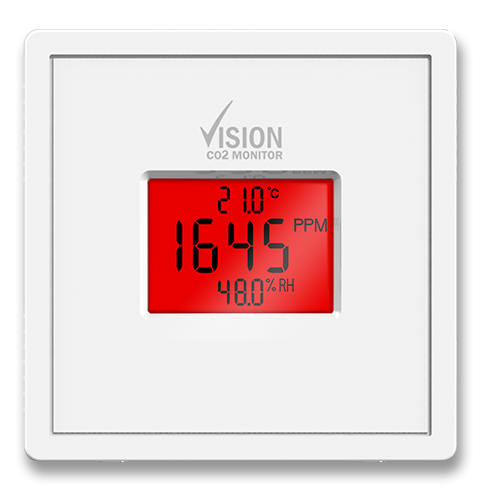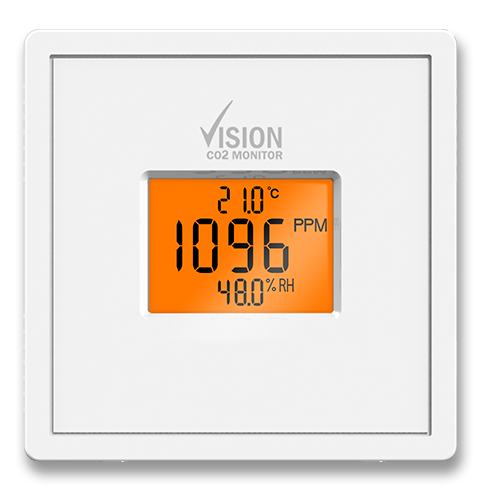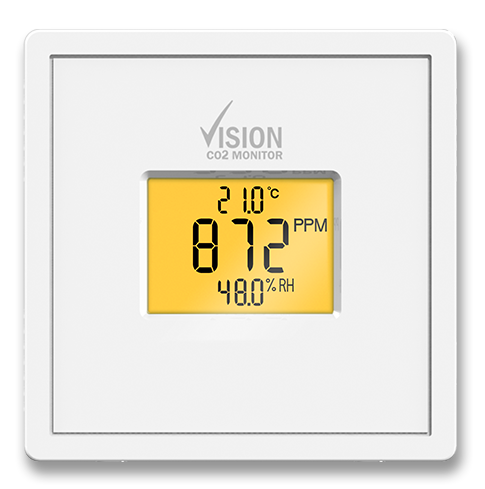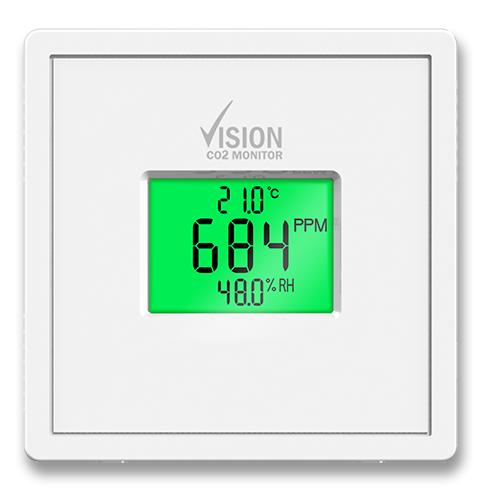 Know your indoor transmission risk
Tracking Carbon Dioxide levels is an inexpensive and effective way to monitor the risk of airborne transmission of COVID-19. When the CO2 level doubles, the risk also roughly doubles. Transmission risk varies with activity undertaken in the space. A level of 1000ppm could be acceptable in a quiet library with masks, but not in an active gym without masks, (University of Colorado) Read more…
Part of your risk management
Vision is a high-quality CO2 monitor that indicates when further ventilation is required. This 'plug and play' solution features continuous monitoring (updated every 5 seconds) and bold colour indication not achievable with battery operated units. Fully customise Vision settings and view readings for the previous 30 days with the free app for PC.
A clear display of your responsible approach
Put your Vision monitor in a prominent place so that everyone can see you take air quality seriously.  The display changes colour according to Carbon Dioxide level and so the relative risk is clear for all to see.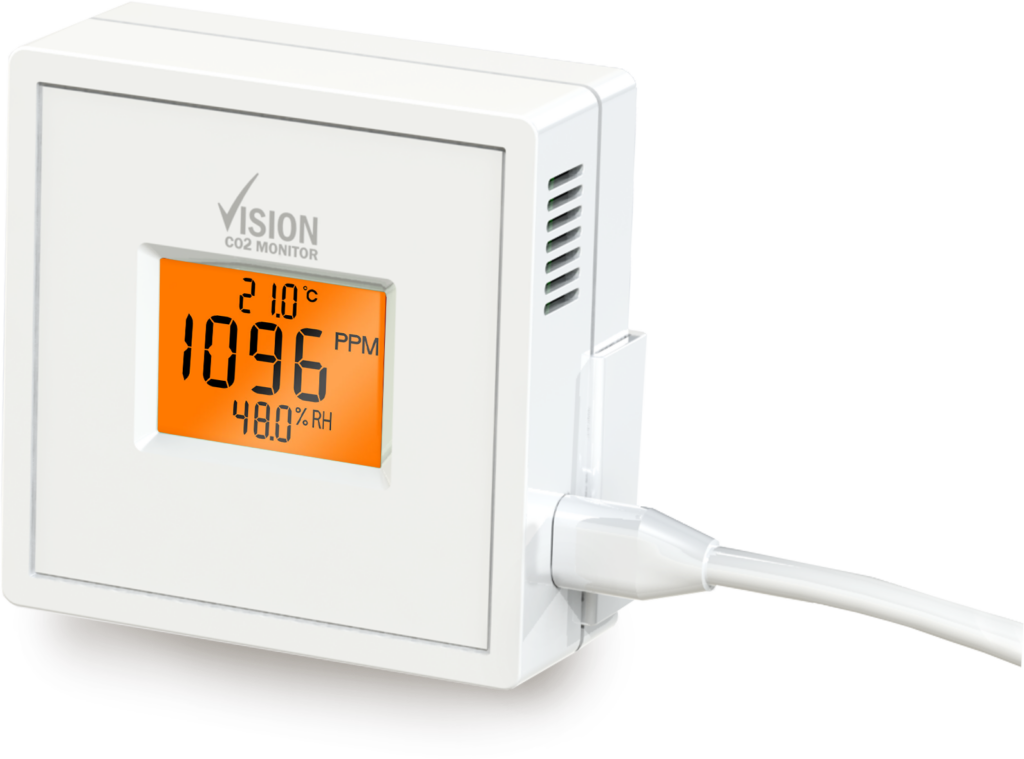 USB Powered – PC/Mains Adapter
Non-dispersive Infra-red (NDIR) CO2 Sensor
Bold Multicoloured Indication
Desktop or Wall Mountable
Anti-tamper Wall Bracket Supplied as standard
Typical 10+ Year Life Expectancy
Configurable through free PC App
Configure your Vision CO2 Monitor
How to use your Vision CO2 Monitor
Information on your Vision CO2 Monitor
How to setup and use your Vision CO2 Monitor
| | Table Header |
| --- | --- |
| | |
| | |
| | |
| | |
| | |
| | Non Dispersive Infra-red (NDIR) |
| | |
| | |
| | |
| | |
| | |
| | |
| | |
| | Temp 0 - 40°C, Humidity 0 - 95% (NC) |
| | |
| | |
| | |
| | |
| | |
Standard: 84 x 84 x 36 mm (H x W x D)
With Bracket: 84 x 88 x 40 mm (H x W x D)
The Vision CO2 monitor features a unique multicolour display so you can see relative risk levels in an instant. Green, yellow, amber and red are enabled as default. To enable blue and purple, or to amend any of the activation levels, download the free Vision Windows app.
Designability has been supplying high quality education solutions to Australian schools for over 20 years, with Flamefast (UK) as a key partner for the last 10.  We are passionate about providing engaging curriculum and reliable equipment, and the Vision monitor adds to the range of classroom solutions.  The unit itself is manufactured in the UK by Flamefast, highly regarded for their gas detection technologies.